At Alternative Borders & Concrete Coatings Inc. we understand the importance of creating a clean and beautiful environment around your home or business. We pride ourselves in being an AZ licensed contracting company and our goal has always been to offer a superior quality product at a competitive price. Our commitment is to our current and future customers in providing services and quality which exceed their expectations.
Please click on the link below to view the Testimonials from some of our satisfied customers.
We truly believe in "Bringing Design and Beauty to Concrete".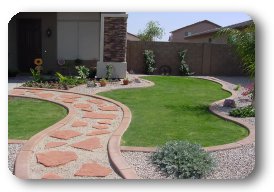 Landscape Borders:

Beautify your yard with an attractive new look.
Help save hours of edging, trimming and weeding.
Design Flexibility allows curving, contouring and custom shaping.
Fast clean and efficient installation without the time and problems of costly form work.
Continuous concrete provides a permanent, durable and effective root barrier that won't shift or fall over.
Less expensive, higher quality
Outlasts wood, metal, and plastic
---
Adds beauty to dull and lifeless areas around your home or business.
Restores old or damaged concrete to give it an attractive new look.
Fade and stain resistant.
Easier to maintain than concrete.